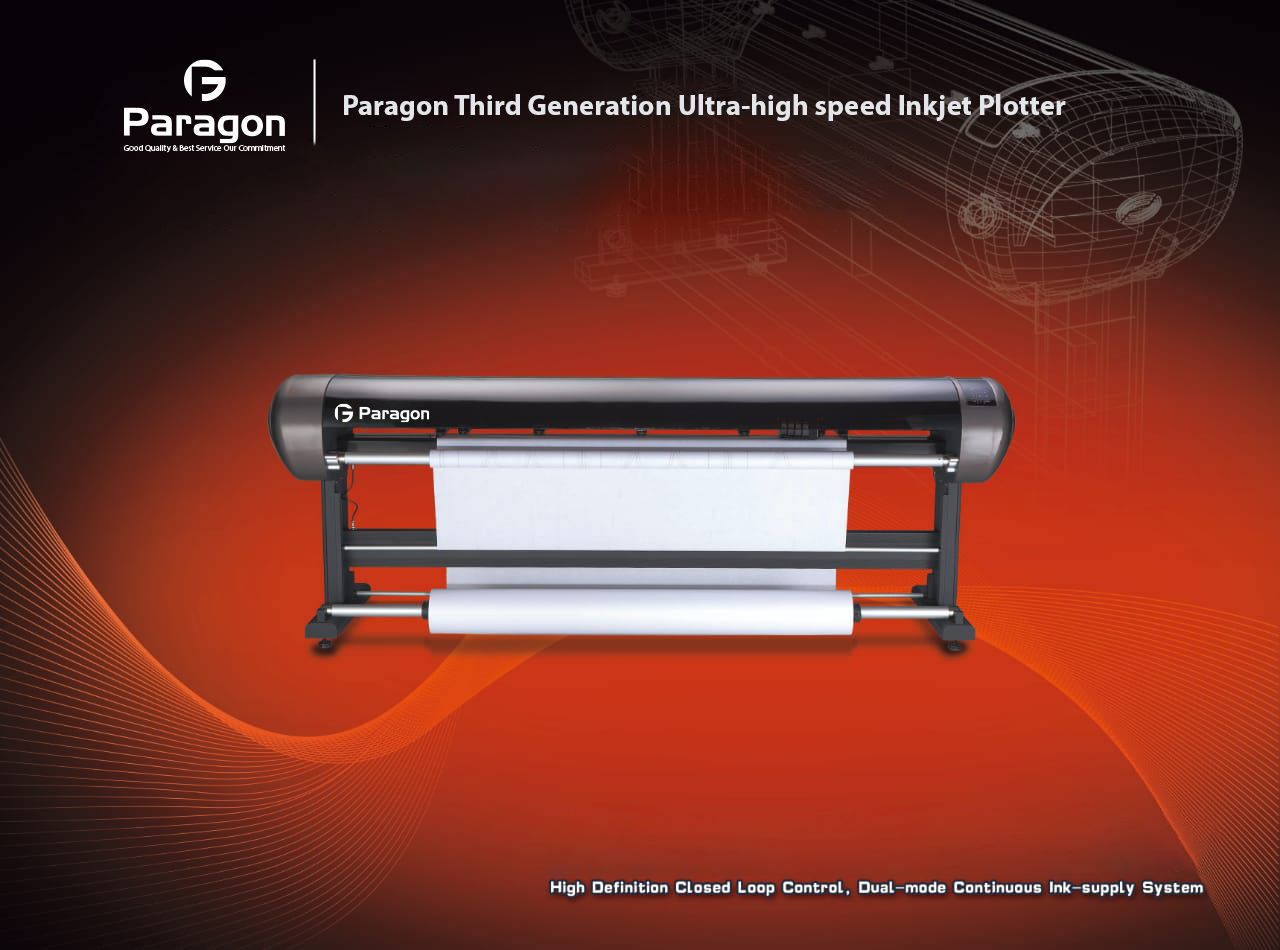 Technical Specification :
Paragon Third Generation High Speed Inkjet Plotter​
Model
LHPG200-2 2Heads
LHPG220-2 2Heads
LHPG240-2 2Heads
LHPG280-4 4Heads
Inkjet Head
HP thermal inkjet head(600dpi), Maintenance-free
Printing Density
Best mode: 600dpi Draft mode:300dpi (save-ink Mode is Optional)
Scanning Speed
(135Sqm/Hr) 300-600DPI
(135Sqm/Hr) 300-600DPI
(135Sqm/Hr) 300-600DPI
(240Sqm/Hr) 300-600DPI
Upgrading
Can be upgraded to 3 Heads of 4 Heads
Can be upgraded to 3 Heads of 4 Heads
Can be upgraded to 4 Heads
Printing Speed 240 sqm/H
Line Quality
Works Precisely, Smoothly, And No Gap Between Two Contiguous Sections.
Software Compatibility
HPGL     HPGL (Special Format Can Be Back-ordered)
Paper Feed System
Accurate Tracking System And Inside Digital Sense System Insure Marker Paper is Feed Continuasslly And Accurately More Than 3000m Long.
Paper Installation Mode
Front Of Back Paper-supply System is Optional.
Paper Take-up Mode
Take-up Automatically or manually, Can piot many a mass of  short marker, and save a lot of time for taking-up paper. On automatic taking-up method, it can work for overlight printing
Structure of Mainframe
US Style, Intograte, Full Metal, High Rigid, And Hard-wearing Struture, Insure The Machinery Life span is Longe 5 Times And Up Than Other Similar Products.
Super Configuration
1. High-speed Servo Control, Closed-loop Positioning Is Whole Procedure 2. Own Independent Manager For Background Printing And Files Queue Automatically 3. Detecte Available Area Of Paper Automatically For Plotting 4. Ink-costing Promot And No-paper Alarm 5. Memorize Position Of Present Plotting Automatically When Plotter Stop Exeptionally In Working 6. Network Printing Is Available 7. Real-time Monitor Every Status Of Motion
Intelligent Cartridge
Memorize Original Point Automatically, Electronic Spring Fit Paper Automatically, Pen-down Accurately And Plot Clearly.
Max. Width Of Paper
173cm
193cm
235cm
235cm
Max. Plotting & Cutting Width
165cm
185cm
205cm
185cm
Power Availability
90/264V, 47/66Hz
Paper Availability
Ordinary Paper
PC Interface
USB
Operation Keypad
Digital Touchpad, Operating Is Easy, Simple And Hard-wearing.