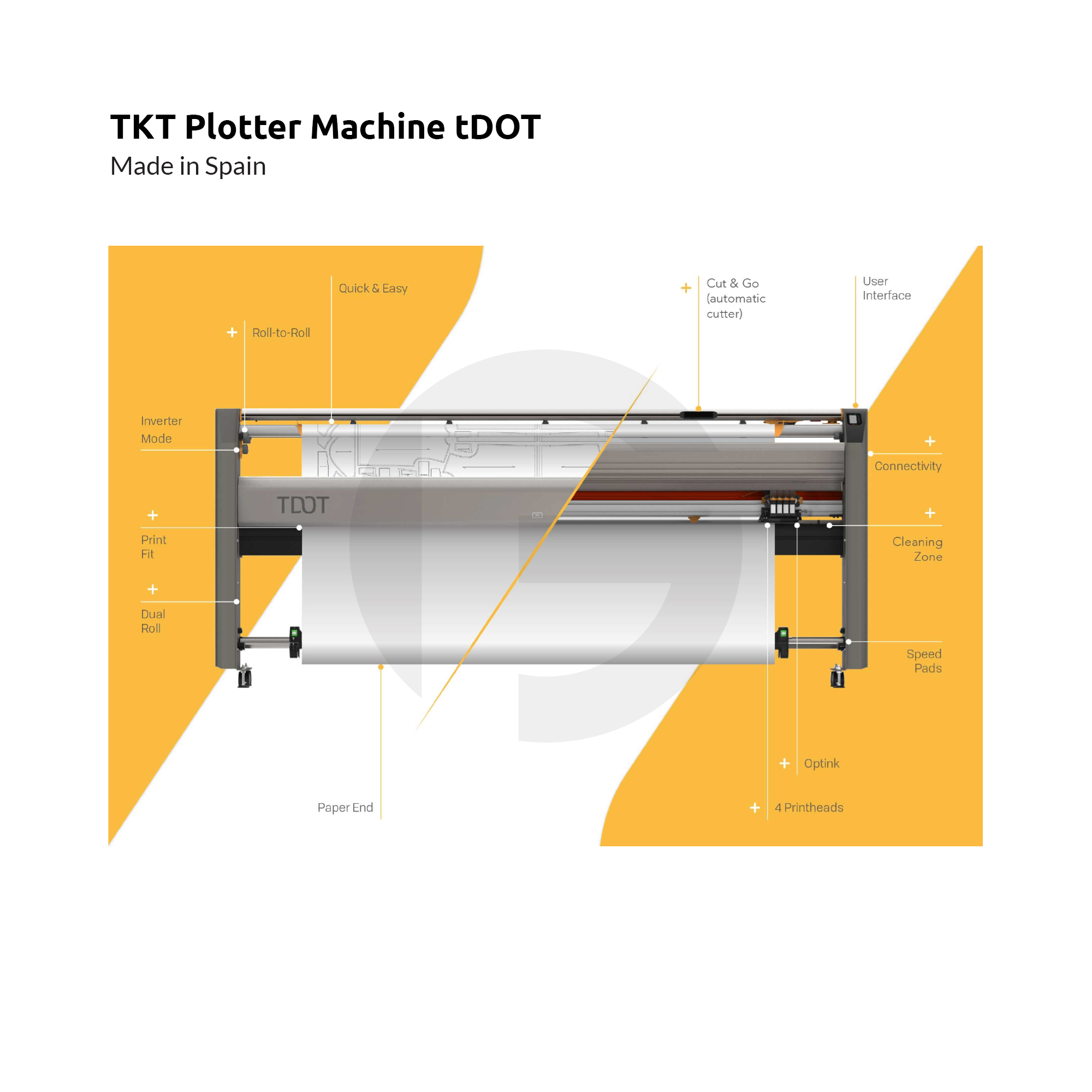 Specifications :

Plotting Width : 180 CM/72 inch
Marker Length: 500 m Unattended
Plotting Speed : 150-200 sq meter/hr
Dimension : 1.17 m x 2.3 m x .7 m
Feed of position : Front floor loading
Paper type : Recycled to bond
Paper Position : Waist-label, off-loading from front
Line Thickness : Thin, normal and thick
Resolution : Best/draft at 600/300 dpi
Ink Cartridge : HP 51645A
No of Cartridge : 4head
PC interface: USB+TCPIP
Power Consumption : 100-260 VAC ,70W/80W
Made in Spain
The UWP (Ultra Wide Printer) DOT plotter series from tkt brain power includes the ultimate in inkjet technology electronics, software control and cutting-edge long-lasting distinguished European design.
Paper Output: Ultra light aluminum shaft (up to 200mm diameter) 2 Or free-paper-on-front delivery.
Easy & Quick : Rapid paper roll exchange system,Specifically designed for the present,Day market-to-manufacturing environment.
Outline: Reduced ink consumption compared With conventional systems, allaws inkjet head cleaning and parking using appropriate software ink level control-2.
High Precision Speed Printing: Two (2) or four (4) inkjet printing heads. Is ideal for dimensional control & cutting quality control. Ink Jet Cleaning & Parking zone 20 cm
CAD suitable systems : Assyst, Astor, Bullmer, Commtese, FK, Gerber, Inventex, Kuris, Lectra, Morgan, Novo Cad, Optitex, PAD, Pathfinder, PolyPattern, Rus Cad,Stylecad, Vetigraph, WEAR cadfè, more…